Welcome to Painted Hill Studio, featuring artwork by Renée (Ré) St. Peter, NWWS.

Thank you for your inte

rest in my art. While my main subject is horses, you'll also find portraits of people, pets, rust and whatever else catches my eye. Recently, I've been painting more and more landscapes, often using a wide, short format (or flipping it vertically for a tall, narrow presentation, as seen in "Rex is King").
Most of my work is done in watercolor, but I'm also trying to get more practice in the sketchbook. Check out my blog for sketches, finished paintings, work-in-progress shots, "art shares," and other bits of interest.
NEW (mini) CLASS: "Seeing Detail" Saturday, September 16, 2017. 12:00 – 2:00 p.m. at the Bellevue Daniel Smith store ($10). Discussion and hands-on activities aimed at identifying all of the elements that make up a scene or subject: Shape, color, value, edges, transitions, reflections and more.
---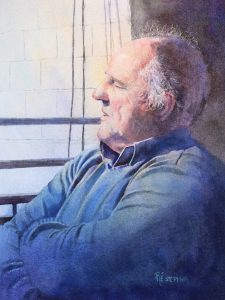 A Milestone Reached My painting "A Taste Of Spring" was juried into the 2016 Northwest Watercolor Society Waterworks show. That marked the third NWWS show my work has been juried into, and earned Signature Member status in the organization. (That's why you'll see "NWWS" after my name.)
Save